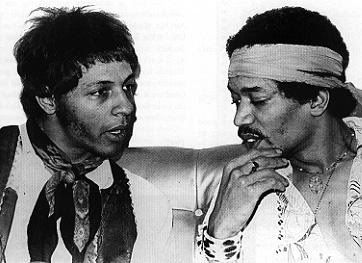 Photo by Jeffrey Eisen
All my life I've been a fan of The Jimi Hendrix Experience. (Who hasn't?) And, all my life I've been a fan of Arthur Lee and his band Love. A band name that, of course, doesn't turn heads, but a logo that does. And like band names that we hear over and over, the meaning and sound of 'Love' changes as we become familiar with the attitude of the music.
It's strange to me to even have to go down this road of holding Arthur Lee up as an artist I'd rather have you listen to than Hendrix. Jimi Hendrix is a special kind of guy. He's a great player, with a relaxed feel. Great compositions and a variety of styles (to a certain degree). A great singer. And, from all accounts, a sweet and fragile individual. Arthur Lee is different. He's a rougher person. But, he's as hard and as soft as Hendrix. Arthur is rough around-the-edges musically sometimes, where you hold your breath and hope he reels it in before it all falls apart. Other times he's as sharp as a tack and blowing your mind with odd songs that make Hendrix look conventional.
Be assured I'm not here to make this a war of choosing sides. I would just like to see posters of Arthur Lee on your wall alongside Hendrix posters. This is the right thing to do. You see, as far as I can tell, Arthur Lee and his cohorts created punk. Yes, punk! There's nothing like "Seven And Seven Is" that I've yet found from the same period in history. The Kinks also, and better known, created punk and heavy metal with "You Really Got Me." And, amazingly both bands made the most passionate sweet and/or sad songs while still being balls-to-the-wall outfits. And yes, Hendrix had that ability. But, where Lee/Love was different was in their weirdness. Arthur Lee comes off like the Johnny Mathis of punkdom. Love took normalcy and gave it the biggest twist I've ever heard. As a baby I was transfixed by the gothic nature and heaviness of their cover of "My Little Red Book." I've never been so gripped by a song since. And by gripped, I mean, the Grim Reaper has you by the throat! Intense stuff for young ears. But then, maybe it took on a special surreal state in my environment at the time. (See "Fear And Loathing In Las Vegas" to get an idea.)
As a matter of fact, it seems Elektra Records had the trifecta of gothic pop under one roof with The Doors, Tim Buckley, and Love. Heavy stuff.
I wonder how Arthur and Jimi behaved around each other, knowing they played on a song together from Love's
False Start
album, "The Everlasting First." I simply do not know, though I have heard Lee's opinion of Jimi's arrival on the musical landscape. And, I'd think Lee could be a little miffed when a guitar master who can write great songs overshadows him. But, Arthur Lee writes more important songs, songs attacking injustice, songs pleading with you to understand, songs begging you to change. Arthur Lee, like John Lennon, George Harrison, and Ray Davies is a truth-sayer. And, like them, he knows how to fight with all his being for the truth. You can hear and feel the sadness that hurts his soul when he leaps out of a sweet melody into improv screaming. But privately, Arthur must have loved Jimi's spirit in order to make what is essentially a Jimi Hendrix record with 1972's
Vindicator
. Simply a masterpiece! What a record. Total Arthur doin' very Jimi. A wonderful tribute, whether intended or not.
I could go on for a long time writing about my love for Love. I could also tell you how many years I basked in the glow of "Axis: Bold As Love." For now I only remind you to add posters of your own making. Stay out of the gift shops selling you another Hendrix poster. Make you own featuring Arthur Lee, James Honeyman-Scott, Dave Davies, Adrian Belew, Warren Cuccurullo, and anyone else that deserves a nod for all the guitar prowess they've wielded while getting absolutely no credit in the gift shops of the world! For, like Hendrix, these men were great players and great songwriters both! All hail the real rock 'n' roll history! A history that even I haven't finished investigating. But I'm not on this earth to talk to you about every person who's ever picked up a guitar. I'm here to point out the special ones. Those who have made a special mark in the pantheon of great songs. Enjoy your record collections and go down fighting! Jimi and Arthur did...in the deep black grooves of vinyl.